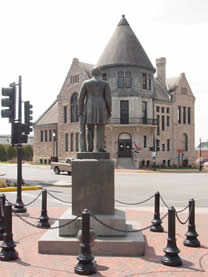 Quincy Arts & Culture
Quincy Art Center
Quincy Museums
Quincy Society of Fine Arts
Quincy Community Theatre
Quincy Symphony Orchestra
The Quincy Society of Fine Arts was America's first Community Arts Council when it was founded in 1947. Today it works to foster, expand, and strengthen the language, visual, and performing arts in Adams county.
By providing or administering grants it provides resources for a variety of artists and artistic events. QSFA also sponsors Arts/Quincy Riverfest, a celebration of the arts and the Mississippi River held at the riverfront. Arts education and other programs offer residents wonderful outlets for their artistic natures.
The Quincy Art Center is a museum of visual arts, while the Gardner Museum of Architecture & Design educates residents and visitors on the extensive architectural legacy of Quincy of which we are so proud.
Quincy Museum, housed in a stunning Richardson Romanesque Revival Style building on Maine Street, was originally the Newcome-Stillwell family home. One of several of this style of building in town, Quincy Museum is itself a part of our past worth preserving.
Permanent and rotating exhibits on the area's prehistory, geology, the Mississippi River, Native Americans, and early settlement and manufacturing base are fascinating glimpses into other times.
The Illinois Veterans Home (the first in the state) is a mini-town in its own right, and house the All-Wars Museum. The Antique Auto Museum in All America Park next to the Mississippi River is home to a large collection of vintage and one-of-a-kind automobiles.
Music is an ever-present part of life in Quincy… the Quincy Civic Music Association hosts professional performances, while the Quincy Symphony and the Quincy Symphony Chorus delight residents with several performances each year.
The Quincy Park Band performs every Wednesday evening to a large crowd at Madison Park, while the Muddy River Opera and the Mid-Mississippi Muddy Water Blues Society each schedule several shows per year.
The Quincy Community Theater stages fine plays and musicals in their 500-seat theater in the Oakley-Lindsey Center. A mix of local performers and national touring companies present a wide range of staged excellence.
Thanks to a community committed to the arts and culture, Quincy, Illinois continues to be a regional beacon for the arts.