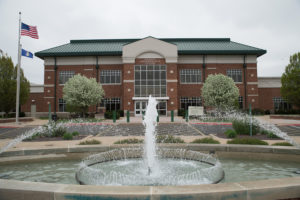 Quincy Public Schools
Elementary Quincy School Districts
St Peter School
Quincy Notre Dame
Quincy Christian School
Early Childhood School
Blessed Sacrament Catholic School
Quincy Montessori School
St. Dominic Catholic Elementary School
St James Lutheran School
St. Francis Solanus School
Chaddock School
College - Universities
Gem City College
Quincy University
John Wood Community College
Blessing-Rieman College of Nursing & Health Sciences
Public schools are one of our greatest resources. A commitment to quality education at every level is apparent at our eight primary schools, intermediate and junior high schools, and high school. Gift and talented programs go hand-in-hand with reading recovery initiatives.
A robust Vocational Technical School system compliments advanced placement courses and other accelerated learning programs for college-bound students. Nearly ninety special education teachers help special-needs kids get the best education possible.
Paralleling the public system are Quincy's parochial schools.  Four Roman Catholic elementary schools feed Quincy Notre Dame High School, while other parochial schools service children from the elementary to high school levels.
John Wood Community College is a baccalaureate transfer and career education institution. Founded in 1975, JWCC has expanded to the point that in the late 90′s a new campus was developed near 48th and Harrison. The new campus has over 150,000 square feet of classrooms on more than 135 acres.
Quincy University offers various four year liberal arts degrees. The Catholic Franciscan university also has a Professional Degree Program for working adults who are finishing a bachelor's degree. Master's degrees in Business Administration, Science of Education, Counseling and Theological Studies round things out.
Blessing-Rieman College of Nursing has four year BSN degree. Nursing and clinical courses are taken at Blessing-Rieman while general ed courses are taken at either Quincy University or Culver-Stockton College across the river in Missouri.
Vatterott College has certification courses in technology, cosmetology, culinary arts, business, trades and medical programs.
Quality educational opportunities plus a deep community belief in the importance of education are hallmarks of life in Quincy.